Stel een vraag
Met het formulier hier onder kunt u contact op nemen met boekwinkel Erik Tonen Books.
Als, Hilton - ALICE NEEL Uptown
De vraag gaat over de volgende titel:
Afbeelding:
Schrijver:
Als, Hilton
Titel:
ALICE NEEL Uptown
ISBN:
Uitgever:
, David Zwirner Books, 2017
Bijzonderheid:
HB, 267 x 216 mm, 144 p, 57 illustraties color, English edition. ISBN 9781941701607.
Prijs:
€ 59,99

€ 5,99

Meer info
Known for her portraits of family, friends, writers, poets, artists, students, singers, salesmen, activists and more, Alice Neel (1900-84) created forthright, intimate and, at times, humorous paintings that quietly engaged with political and social issues. In Alice Neel, Uptown, writer and curator Hilton Als brings together a body of paintings and works on paper of African Americans, Latinos, Asians and other people of color for the first time. Highlighting the innate diversity of Neel's approach, the selection looks at those often left out of the art-historical canon and how this extraordinary painter captured them; "what fascinated her was the breadth of humanity that she encountered," Als writes. The publication explores Neel's interest in the diversity of uptown New York and the variety of people among whom she lived. This group of portraits includes well-known figures such as playwright, actress and author Alice Childress, the sociologist Horace R. Cayton, Jr., the community activist Mercedes Arroyo; and the widely published academic Harold Cruse, alongside more anonymous individuals of a nurse, a ballet dancer, a taxi driver, a businessman and a local boy who ran errands for Neel. In short and illuminating texts on specific works written in his characteristic narrative style, Als writes about the history of each sitter and offers insights into Neel and her work, while adding his own perspective. A contemporary and personal approach to the artist's oeuvre, Als' project is "an attempt to honor not only what Neel saw, but the generosity of her seeing."
Boek bekijken
Erik Tonen Books uit Antwerpen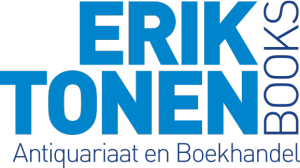 Bedankt voor uw bestelling.
We sturen uw bestelling via de koerierdienst DPD, POSTNL en DHL. ** tarief voor alle pakjes ongeacht het gewicht is 5.99 euro voor Nederland en België. U ontvangt van ons altijd een bevestiging en een factuur per e-mail.